This Is How To Make Awesome Pizza At Home
After having a few pizza nights we decided to call it a thing. So now we are having almost weekly pizza nights and we love them. Actually, we are trying to have fitness & pizza nights, but the first part doesn´t always happen. We are still on our way to mastering our pizzas, but I think we are doing pretty well. Next step would maybe be cauliflower dough.
Ingredients
Pizza Dough: Makes enough dough for 4 pizzas, so double it for 8 people
1 1/2 cups warm water
1 package of active yeast (2 1/4 teaspoons of dry one) 
3 1/2 cups of flour
1 Tbsp olive oil (optional)
1/2 teaspoon of salt
Pizza Ingredients
Tomato sauce
Zucchini, thinly sliced
Olives, thinly sliced
Dry tomatoes, thinly sliced
Red pepper, sliced
Cherry tomatoes
Dry oregano
Fresh basilicum
+ at least 1 Italian, some beer and some good Italian music 
Making Pizza Dough
Place fresh yeast in a cup of warm water and let it sit for 5 minutes until the yeast is dissolved. Mix flour, salt, and olive oil in a big bowl and add the cup of water and yeast. Add another half cup of water. Mix the ingredients together and knead them by hand. If the dough seems a little too wet, sprinkle it with a little more flour.
Now put your bowl with a dough in a warm place to rise. Leave it to sit until it doubles in size, at least 1 to 1 1/2 hours. The longer rise will improve the flavor of the pizza crust.
If you don't have a warm spot in the house you can heat the oven to 150 degrees, and then turn off the oven. Let the oven cool till it is just a little warm, then place the bowl of dough in this warmed oven to rise.
Preparing the Pizzas
The reason I eat so much pizza is Ferrari Pizza Express. It has a stone plate and can heat up to 390C. It takes it about 10-15 min to heat up. 
In the meantime, you can prepare the pizzas. Divide the dough into four parts. Flour the surface! (or your pizza will get stuck to the surface and later to the stone) and flatten the dough with your fingertips, starting from the middle out. Turn and stretch the dough until it will not stretch further.
Prepare your desired toppings. I use around 1/2 cup of tomato sauce, half of zucchini and red pepper, a few dry tomatoes, a few olives and bunch of oregano.
Baking the Pizzas
The best part of this pizza maker is that it takes only 4-5min (after it´s heated up) to bake this delicious pizza. because it´s baked on a stone, the pizza is soooo crispy and perfectly baked from bottom and top.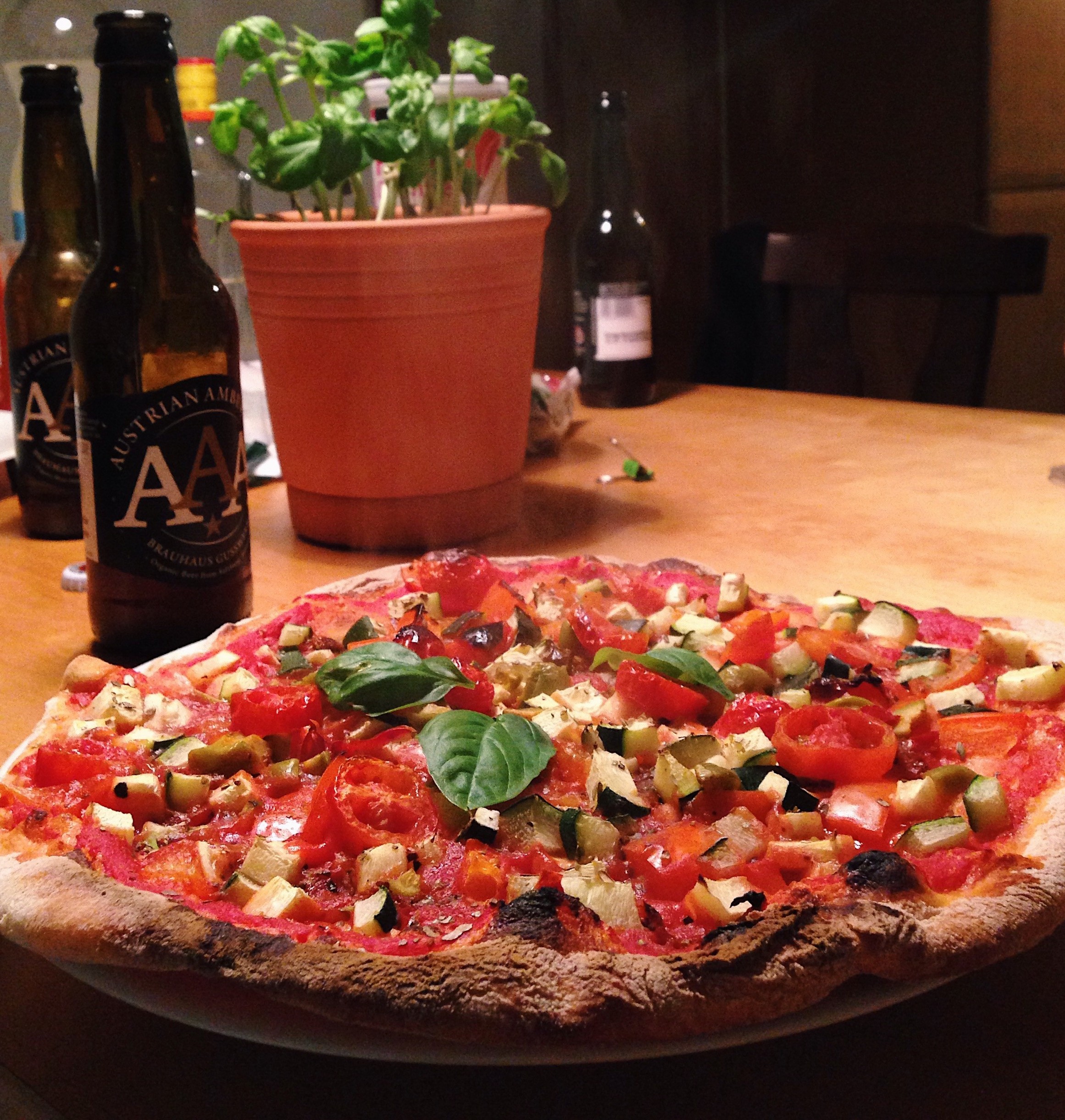 By the way, this is not a sponsored post. Pizza maker was a 2nd hand gift from my friend and we love her very much because of it hehe And I recommend it (the pizza maker, not my friend) to everybody that loves pizza as much as we do.
I guess we will need to do a few pizza nights before my friends (down) can reach my professional pizza skills (up) :P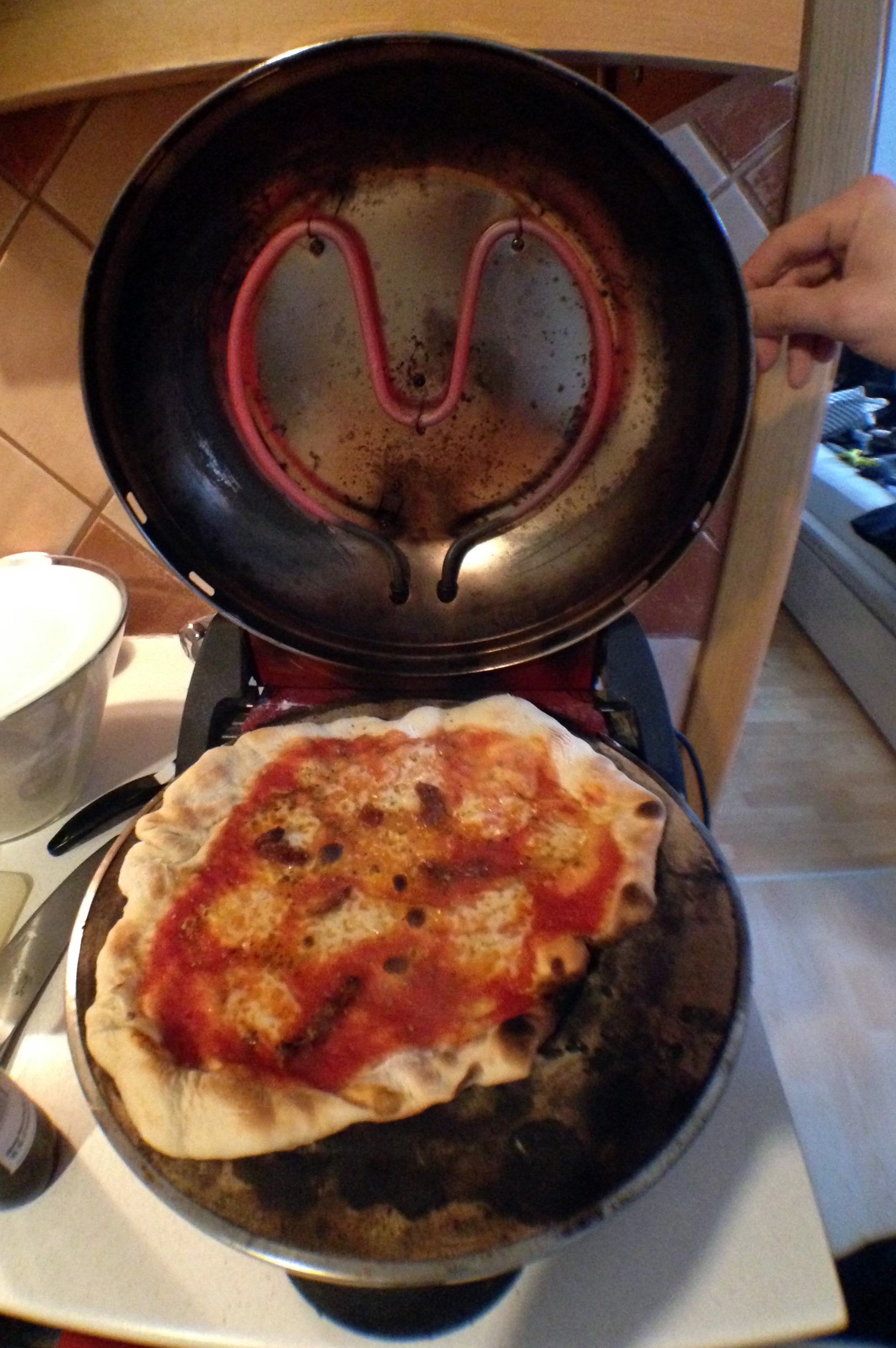 See ya on the next pizza night …. in 2 weeks.
Now I´m off to my bellowed island Hvar. I won´t be able to post much for next 2 weeks, hope you forgive me. But are welcome to follow my beach life on my Instagram stories :)
Have fun!
Mateja